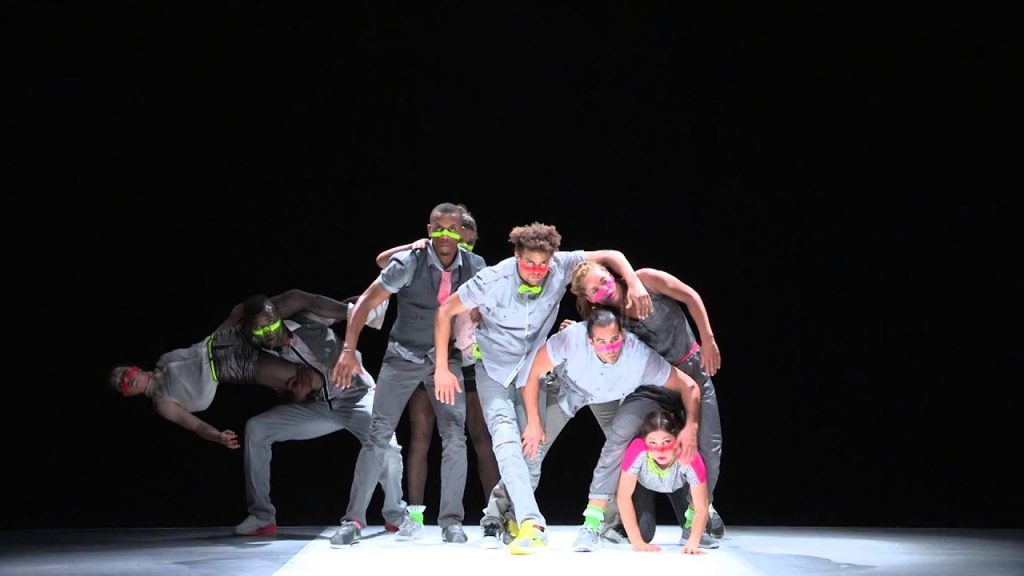 Fighting against conformity and breaking free from the system: Pierre Rigal – Standards is the latest piece of work at the Southbank Centre, London, painting a political picture of conformist French society.
Consisting of eight of France's top dancers and theatre makers Pierre Rigal is a company familiar with putting on productions as profound as they are boundary pushing. With an hour-long performance at Breakin' Convention 2011 their work is not for the impatient.
Experts at creating hip hop theatre work that is eccentric you know you'll either love it or hate it when the wings of the stage are bare, meaning the proceedings of the night's show won't be including any set and rely on skill alone.
Using experimental musical soundscapes from Nihil Bordures Standards is told through vignettes of set to the backdrop of the French flag taped to the stage floor and bathed in blue, white and red, a dancing arena and a metaphor for the entrapment and frustrations of life.
Opening to a gradually progressive electro glitch soundtrack for shock kicks off on a slow burner using some clever prop work with trainers worn on hands doing tutting tricks as the dancers emerge into the spotlight in their socks. Quick dashes on and off the flag bursting into solos, duos, trios, ensemble steps before dashing off again, the opening was the best part of the show, though slow in its build up. The problem is it was a slow burner throughout the entire show.
Told through vignette scenes it was a gallery of portraits set within the frame of the French flag presented as a series of ideas painted in tricolour. As with a tour around the Louvre (French art gallery pun) some pieces appealed more to the tastes than others as you explore the proverbial rooms of Pierre Rigal's interpretation of non-conforming through dance. There were some great uses of the limited set (that would be a spoiler to give away) and body sculptures to create "high art" out of nothing, sat next to the cliché feel of a catwalk show, the "pop art."
However, despite its interesting conceptual approaches, with eight incredible dancers in the company the show had moments when you're screaming out for them to break away and just do some dancing, anything routine based or in a formation. For a theatre show using hip hop dancers they all felt underused – the cast could have been replaced by rhythmic acrobats and been more or less the same show, but with our dancers no one was used to their potential.
It felt like the best parts of the show were summed up in the trailer. Standards could have been told in 35 minutes and not 70 and had a more profound effect. Clever and political as dancing on their flag, though I don't lead a French lifestyle, its letdown is it not pushing everyone to their potential.